"Bayanihan: It Takes A Village" is the Ignite speech made by Cecille L Castillon, Founder of CASTILLON Lifestyle + Concierge, at the first Mom University event held at Locust Grove Estate, Poughkeepsie, New York on March 8, 2019.
Growing up, I witnessed my own mother balance her full-time career as a teacher AND as the school newspaper adviser, as well as a homemaker and an active member or our local community.
Both my parents lead a hectic lifestyle. They had 4 children spread out in age! They also traveled constantly for work and participated in various social obligations in our neighborhood.
Despite their packed schedules, they managed to host fabulous gatherings, celebrate milestones, take family vacations, etc. Through it all, Mom managed to look impeccably-dressed, not a hair out of place, and never left the house without putting on her signature red lipstick!

She made it seem easy, my mother. In my eyes, she was a superMom who always saved the day and had things under control. She used to say. "Sit back, relax, watch a movie!"
She was a superhero, alright. But I was quite aware that she didn't do things on her own. In fact, she relied on members of our community to assist her in running her household and rearing her children.
Only in hindsight did I realize the impact of the help she had, and how it contributed to her success in being able to raise me and my siblings, while maintaining a degree of sanity as she juggled her family, work and social life.
As an adult attempting to manage my own home here in the Hudson Valley, far away from instant access to the tight-knit community I grew up with, I felt I was missing out on this valuable resource.
There was always an aunt, a family friend or a cousin's cousin that my own parents can rely on to help them on a daily basis or during an emergency. Raising children was truly a communal effort. Each person was each other's keeper.
Bayanihan is the core essence of the Filipino culture. It is a traditional system of mutual assistance in which the members of a community work together, helping out one's neighbor to accomplish a difficult task, thus lessening the workload and making the job easier.
Although bayanihan can manifest itself in many forms, it is most clearly and impressively displayed in the old tradition of neighbors helping a relocating family by getting enough volunteers to carry the whole house, and literally moving it to its new location.
Akin to the beautiful tradition of barn-raising here in the US, it is done in a happy and festive mood. Food is prepared as there's usually a gathering as a form of celebration and socialization. Nothing like an impressive communal feat and food to bring a village together.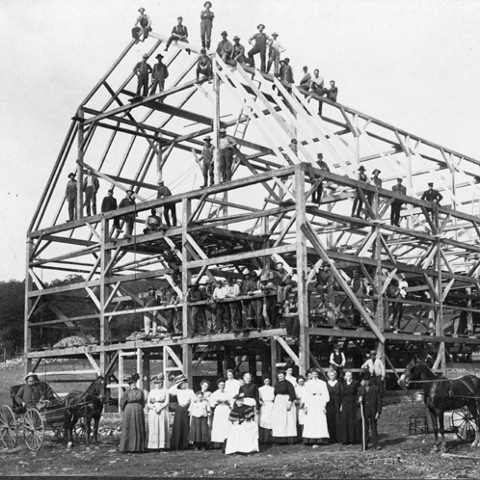 Barn raising is a collective action of a community, in which a barn for one of the members is built or rebuilt collectively by members of the community.
Unfortunately, Bayanihan is slowly dying out. Home structures have adapted to change in environment and modernization. Infrastructures are increasingly built from concrete instead of wooden slits. People's attitudes and disposition have also changed. It becomes harder and harder to create and sustain group efforts.
In a contemporary society, we seem to be incessantly pulled in several directions. While the advent of hi-tech communication has connected us to farther reaches of the globe, we seem to have disconnected from our immediate community.
Along with this disconnect, we also experience a more challenging way of living. We struggle to take on mounting tasks each day and we are all spread out too thin because there's only so much of our individual selves to go around.
Especially here in the Western World, we live in a culture that rewards individual accomplishments and values individual achievements. This can sometimes lead us to feel that we are better off taking things on by ourselvelves.

While on the one hand this pride in our individualism can be a great motivator towards our success, on the other hand, there is room to value collective success and community achievements. Turning to others for help should not be coming from a place of desperation but from a place of pride.
We should be proud to know that we live in a community that contains an amazing pool of talents available for us to draw from. Relying on each other can elicit positive feelings, such as joy, from both the giver and the receiver. Benefitting from each other's talents will collectively strengthen us and support our local economy.

That being said, I want to leave you with three nuggets:
First- Know and utilize your local resources. When we utilize local talent, we help build local dreams and support the growth of local families. I feel we're already doing well at this here in Hudson Valley. Look at today's amazing turn-out!
Second- Don't be afraid to get creative especially if you have a skill or talent that is practical and has value. Money doesn't always need to be a part of the exchange and there's nothing wrong with inquiring about a barter if you feel that you have something valuable to offer in exchange for what you want or need.
Third, and to cap it all off- Know your neighbors! "It takes a village" is a catchy term but the first steps out of your doorway are made by you. The closest people to you then are your neighbors. It's good to know who they are, to look out for them and to have the comfort of knowing that they're looking out for you too. A great place to begin your connection with your "village" can be with the ones who are closest to your front door.
Thank you very much! Have a great afternoon!
To view the full Ignite slideshow, click here